Te Ra Charters Ltd, Whangamata - Email te_ra@outlook.com Phone 022 643 2515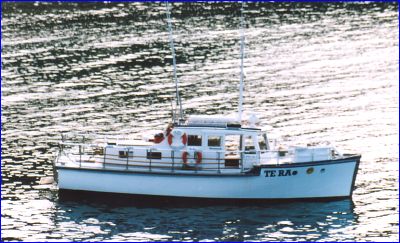 Te Ra (The Sun) Charters run a 45 foot launch available for casual trips and charter in the Eastern Coromandel / Bay of Plenty, operating out of Whangamata.
The vessel is available for charter by groups.
The vessel is surveyed for 20 passengers and sleeps eight overnight with full facilities.
Divers catered for. Racks available for 30 bottles.
Large live bait tank, 600L.
Insulated fish storage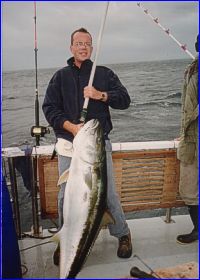 Te Ra is skippered by Chris Jones. His 35 years experience on Te Ra will ensure you have a day to remember.

What Te Ra Charters offers to you.
We Supply:
• A safe fishing environment. The vessel is under Safe Ship Management.
• Hire Rods, $10 per day including tackle.
• Coffee and tea, free at anytime.
We Operate:
Regular Wednesday daytime and Friday evening trips throughout the year.
Wednesdays: 10.00am to 3.00pm
Fridays: 3.30pm to 8.30pm
Summer Timetable - Dec 26th -> Jan 31st
Fishing twice daily:
8am -> 2.00pm
3pm -> 8.30pm
Winter timetable for Fridays 2.00pm to 8.00pm
(Winter timetable begins at the end of daylight savings)
We Cost:
• Charter the whole boat from $800
• Overnight (8 persons max) from $1400
• Local fishing trips: - Adults $60, Children $40.
Please note Children are 13 years and under.
You Bring:
• Own bait, lunch, hat, warm jacket, sun block, ice for your catch,
and fishing tackle if you have it.